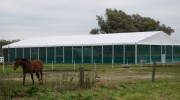 Indoor Riding Hall
The riding hall offers maximum flexibility:
the tent is quick and easy to set up at various places - without any foundation.
It offers the perfect protection from rain, snow and sun.
The riding hall can be equipped with lateral wind break nets or PVC tarpaulin.
Optional other materials are possible, for example corrugated sheet metal.
Suitable for any model, we supply following accessories:
rain gutters
wooden side boards
circulating steel tube panels
illumination
window bands in the roof
portable heaters
Widths: 15,3 m / 20,13 m / 21,13 m (up to 40 m)
Lengths: can be extended to any size through 3m or 5m
increments
Eaves height: 3,0 - 5,0m
Intermediate sizes are always available!
Snow load up to SK 0,94 kN/m2
Windload to zone 2 and qw 0,65 kN/m2
We produce according static calculations DIN 4112 and DIN 1055 !
Request to Indoor Riding Hall